Hero:John
John is a true American, not only for serving overseas but also for all he does locally. 
He and Jane  are active in numerous associations in their community such as; Alzheimer's, Crohn's and Colitis Foundation, National Cancer Foundation, Wounded Warrior Foundation, and Cleveland Christian Homes.  John is also a member of OSCAR through which he counsels Marines w/ PTSD (Post Traumatic Stress Disorder).  
John is a Marine, through and through.  While stationed in Camp Lejeune in 2004, he was assigned to 2nd Battalion 2nd Marine Division Fox Co. 2nd Platoon 3rd Squad 1st Team. John was the squad's point man, meaning he was up front leading patrol, which means he would be the first one to make contact on the front line.  John's battalion deployed on July 18th 2005 to Al Karmah Iraq. Al Karmah at the time was very hostile; it was where the insurgents fled after the Battle of Fallujah. On September 23rd 2005, John and his squad were assigned to do vehicle checkpoints.   On the way to one checkpoint, they passed a Jeep that was wired to be a Vehicle Born Improvised Explosive Device (VBIED).    It exploded on target.  John remembers the flash of light and the overwhelming loud boom.  The left side of his body would not move. He was bleeding from his left ear and had shrapnel in his left arm.   
After medical treatment that began in Baghdad, John was diagnosed with physical injuries of Traumatic Brain Injury (TBI), extensive nerve damage to the left side of his body, a compressed spine, and Sciatica which causes him to lose feeling in his legs.  The psychological injuries are just as severe; chronic Post Traumatic Stress Disorder (PTSD) causes extreme night terrors which include vivid dreams and sleep walking and talking.
John medically retired as a Sergeant from the Marine Corps on August 30th 2012.
---
Among his many awards are: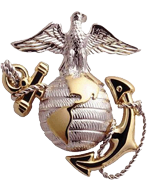 Purple Heart Medal
Combat Action Ribbon
Good Conduct Medal w/a star
Iraq Campaign Medal w/a star
Global War on Terrorism Service Medal
National Defense Medal
Global War on Terrorism Expeditionary Medal
Sea Service Deployment Medal w/a star
3 Letters of Appreciation
---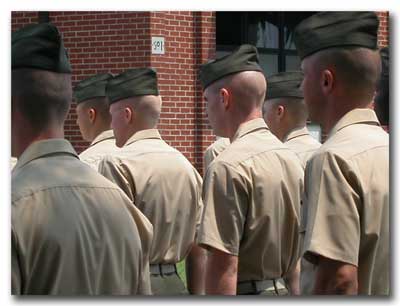 John and his wife Jane volunteering at an event to help other Wounded and Disabled Veterans.  AS ALWAYS & ONCE AGAIN THEY STEP UP, "because it just needs to be done".
Since his retirement, John has fought daily, both mentally and physically, to lead a "normal" life.  As John says, "After the explosion, my life seemed to go downhill. I was very depressed and physically I knew I would never be the same.  My wife (Jane)… calls my phone every hour when I am home alone because she is scared that I have collapsed and cannot get up – which has happened before.  At night, I sleep walk an average of twice a week... A new home that can be built around my disabilities would be a true dream come true.